Toronto, Ontario (June 28th, 2023) – Happy Belly Food Group Inc. (CSE: HBFG) (OTCQB: VGANF) ("Happy Belly" or the "Company"), a leading consolidator of emerging food brands is pleased to announce that it has signed its first client to its advisory arm that specializes in the development and growth of early-stage companies needing strategic and operational guidance to scale their businesses.  Clients of our Next Level Partners program provide predictable contract revenue for Happy Belly, an important step forward on our path to profitability.
Further to our news release on December 12th, 2022, stating a signed LOI for a 50% acquisition of Lady Glaze, a Gourmet Doughnut and Dessert business, both businesses have mutually agreed that the next step in this process is Lady Glaze to first transition to our Next Level Partner program. This program will focus on the immediate and specific needs of the Lady Glaze business, consisting of Brand Strategy, Growth Acceleration, Operational Efficiency, Capital Allocation and M&A Readiness for the brand prior to continuing with the opportunity for acquisition based on the terms laid out in the LOI agreement.  As a client of Happy Belly's Next Level Partner program Lady Glaze will work with various resources at Happy Belly to strengthen their brand through the needed support and guidance required to elevate the brands fundamentals to reach its next level of scaled growth and development.
"In an ever-changing economic environment for business owners and operators, we welcome Lady Glaze to our Next Level Partner program where we will work hand in hand with their management team to support and shape business drivers during these critical moments of their growth," said Sean Black, Chief Investment Officer of Happy Belly.  "Although this is a new revenue vertical for Happy Belly, our teams have decades of hands-on experience that help brands avoid pitfalls and accelerate growth by providing management with solutions that save time and capital.  We are here first and foremost as founders / management / owners / operators who have been through the startup journey from formation to exit many times and have a deep understanding of the restaurant and CPG business.  We have seen and lived the challenges that founders and operators go through, and will leverage this expertise to benefit Lady Glaze, and all future clients, in a meaningful and impactful way."
About Next Level Partners
Through growth modeling and operational excellence, our services will guide founders to focus on operational improvement to accelerate revenue and reduce costs.   Our experienced operational knowledge will help leaders navigate the moments that matter most in their companies' journeys toward success.  Services will hone in on brands key business drivers to help shape management's objectives, goals, and strategies. We guide and support management to set the foundation for growth.  We specialize our services to offer brands the guidance they need to achieve their goals. The name of our division speaks to exactly how we will operate, as true partners.
The team's past success has been rooted in building brands from the ground level. Our team has personally overseen the growth and launch of over 400 restaurants across North America through several brands categories with successful exits each time.  It is our goal to build trusted relationships with these early-stage founders as they help us continue in building our M&A pipeline for years to come.  In some instances, some of these founders will eventually look to exit with Happy Belly and we will be here to deliver a frictionless friendly M&A transaction.
Happy Belly is now positioned with opportunities in the food industry that range from early-stage companies (Next Level Partners Division) to mid-cycle equity-based transactions (Happy Belly's 50/50 Model), to fully mature brand M&As (Full Acquisitions).
About Lady Glaze
With dozens of curated doughnut and dessert flavours, including a section of gluten free and vegan doughnuts, we believe in choosing natural ingredients over artificial flavours and processed shortcuts. Our glazes are coloured using the natural palette of fruits and vegetables. We use real butter, real milk, and real cream. We use real sugar, honey, and maple.
We believe in batch production so that the product we offer you is always as fresh as we can make it. We never sell day old doughnuts.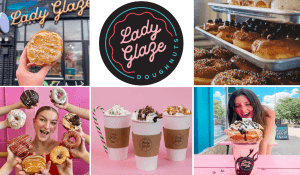 About Happy Belly Food Group
Happy Belly Food Group Inc. (CSE: HBFG) (OTCQB: VGANF) ("Happy Belly" or the "Company") is a leading consolidator of emerging food brands.  For more information please visit:  www.HappyBellyFG.com.
Happy Belly Food Group
Shawn Moniz
Chief Executive Officer
FOR FURTHER INFORMATION, PLEASE VISIT:
www: www.happybellyfg.com or email hello@happybellyfg.com
Neither the Canadian Securities Exchange nor its Regulation Services Provider (as that term is defined in the policies of the Canadian Securities Exchange) accepts responsibility for the adequacy or accuracy of this press release, which has been prepared by management.
Cautionary Note Regarding Forward-Looking Statements
All statements in this press release, other than statements of historical fact, are "forward-looking information" with respect to the Company within the meaning of applicable securities laws. Forward-looking information is frequently characterized by words such as "plan", "expect", "project", "intend", "believe", "anticipate", "estimate" and other similar words, or statements that certain events or conditions "may" or "will" occur, and include the future performance of LumberHeads Food Co. Forward-looking statements are based on the opinions and estimates at the date the statements are made, and are subject to a variety of risks and uncertainties and other factors that could cause actual events or results to differ materially from those anticipated in the forward-looking statements. There are uncertainties inherent in forward-looking information, including factors beyond the Company's control. There are no assurances that the business plans for Happy Belly described in this news release will come into effect on the terms or time frame described herein. The Company undertakes no obligation to update forward-looking information if circumstances or management's estimates or opinions should change except as required by law. The reader is cautioned not to place undue reliance on forward-looking statements. For a description of the risks and uncertainties facing the Company and its business and affairs, readers should refer to the Company's Management's Discussion and Analysis and other disclosure filings with Canadian securities regulators, which are posted on www.sedar.com.