Toronto, Ontario (July 18th, 2023) – Happy Belly Food Group Inc. (CSE: HBFG) (OTCQB: VGANF) ("Happy Belly" or the "Company"), a leading consolidator of emerging food brands is pleased to announce that on July 17th, 2023 it has signed an area development agreement for the province of British Columbia for the opening of 20 franchise restaurants of PIRHO Fresh Greek Grill, a gourmet bowls, wraps, and pitas fast casual Greek restaurant with the fresh wholesome tastes of Greece and its delicious traditional foods.
"Todays announcement marks Happy Belly's entry into its third (3rd) province where it holds area development agreements in place as we continue to rapidly develop our brands, real estate footprint, and nation-wide franchising program. We have 80 units in development for PIRHO Fresh Greek Grill across British Columbia, Alberta, and Ontario, showing our brand partners and shareholders just how serious we are about accelerating our growth", said Sean Black, Chief Investment Officer of Happy Belly.  "Our accelerated franchise development model and real estate growth plan is establishing PIRHO as a National brand with a lot more opportunity still to grow within Canada as we also keep a close eye to territory south of the border for future expansion. Since the start of 2023 we have built a pipeline of a combined 130 QSR units across our brand portfolio in just three (3) provinces that are in franchising development. There is still significant open ice for Happy Belly to grow and expand into, and we are aggressively pursuing these opportunities."
Visual Example of PIRHO Fresh Greek Grill locations with British Columbia, Ontario and Alberta AD Agreements
"With our move into British Columbia, we have made another substantial step forward in becoming the leader in Fast Casual Greek in Canada. We achieved this very goal within the Mexican category as we grew Mucho Burrito with first mover advantage in Canada after Chipotle had 1st mover advantage in the United States. PIRHO is our next emerging growth brand in fast casual. CAVA has the 1st mover advantage in the United States and it has worked out pretty well for them so far, so our ability to quickly scale in Canada using our team and our asset light franchise model for growth is very important. This was the reason we put the band back together and assembled the same team that delivered results for us with our many previous brands. Speed to market is crucial when scaling a growth brand, and we plan to leverage our formula across our portfolio of emerging brands. Happy Belly is strengthening its position as a national franchisor of emerging brands. Getting to build this brand with my close friend and former business partner Steve Travers is dream scenario for me. We have worked together at Extreme Brandz, Crave It Group, and MTY Group (where he held the position of VP Western Canada Development) to grow a lot of brands in Western Canada."
Area Developer
We have signed with experienced Stephen Travers as our Area Developer in British Columbia.  Stephen was the 1st Extreme Pita Franchisee ever, and later the 1st ever Area-Developer for Extreme Pita, Mucho Burrito and Via Cibo.  He has over 20 years of QSR experience and an impressive track record of developing brands quickly in Western Canada. Stephen has developed over 150 QSR restaurants and has delivered for us time and time again as we built our previous brands.
For franchising inquiries please see www.happybellyfg.com/franchise-with-us/ or contact us at hello@happybellyfg.com.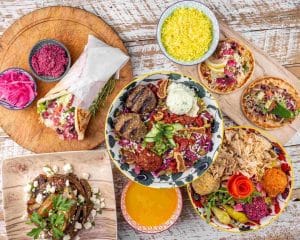 About PIRHO Fresh Greek Grill
We strongly believe that food can bring people together and inspire colorful conversations. PIRHO culture is rooted in old-world Greek traditions with an emphasis on family and community. The wholesome ingredients, the careful preparation, the irresistible aromas, the delicious food and of course the human interaction all make for a warm and inviting atmosphere. During our visits to Greece, this nurturing environment left a deep and lasting impression with us. So much so that it led to the creation of PIRHO Fresh Greek Grill. The best of Greece right here in Ottawa! In our fast-paced world, taking the time to connect with friends and family has never been more important. You deserve to enjoy those precious moments and connect with your loved ones, in real life, with True Food. Join us for lunch or dinner at PIRHO Grill and fuel your soul.

About Happy Belly Food Group
Happy Belly Food Group Inc. (CSE: HBFG) (OTCQB: VGANF) ("Happy Belly" or the "Company"), a leading consolidator of emerging food brands.
Happy Belly Food Group
Shawn Moniz
Chief Executive Officer
FOR FURTHER INFORMATION, PLEASE VISIT:
www: www.happybellyfg.com or email hello@happybellyfg.com
If you wish to contact us please call: (604) 737-2303
Neither the Canadian Securities Exchange nor its Regulation Services Provider (as that term is defined in the policies of the Canadian Securities Exchange) accepts responsibility for the adequacy or accuracy of this press release, which has been prepared by management.
Cautionary Note Regarding Forward-Looking Statements
All statements in this press release, other than statements of historical fact, are "forward-looking information" with respect to the Company within the meaning of applicable securities laws. Forward-looking information is frequently characterized by words such as "plan", "expect", "project", "intend", "believe", "anticipate", "estimate" and other similar words, or statements that certain events or conditions "may" or "will" occur, and include the future performance of LumberHeads Food Co. Forward-looking statements are based on the opinions and estimates at the date the statements are made, and are subject to a variety of risks and uncertainties and other factors that could cause actual events or results to differ materially from those anticipated in the forward-looking statements. There are uncertainties inherent in forward-looking information, including factors beyond the Company's control. There are no assurances that the business plans for Happy Belly described in this news release will come into effect on the terms or time frame described herein. The Company undertakes no obligation to update forward-looking information if circumstances or management's estimates or opinions should change except as required by law. The reader is cautioned not to place undue reliance on forward-looking statements. For a description of the risks and uncertainties facing the Company and its business and affairs, readers should refer to the Company's Management's Discussion and Analysis and other disclosure filings with Canadian securities regulators, which are posted on www.sedar.com.