Toronto, Ontario (February 3rd, 2022) – Happy Belly Food Group Inc. (CSE: HBFG) (OTCQB: VGANF) ("Happy Belly" or the "Company"), a leading consolidator of emerging food brands is pleased to announce that in the month of January it has expanded distribution of its Holy Crap Cereal and Oatmeal SKUs through various in-store retailers and an online B2B wholesale platform serving Canadian and US retail markets.
"In a busy sales month our team has delivered three separate wins expanding the distribution of both our cereal and oatmeal lines of Holy Crap.  Our wins consist of welcoming Thrifty Foods as a new retailor, gaining an additional listing at Whole Foods (Western Canada), and we have successfully gained listed status with 9 SKUs with Faire – an eCom platform for providing wholesale distribution to small and medium sized businesses throughout Canada and the US", said Shawn Moniz, CEO of Happy Belly. "It's been an incredible start to the new year as we continue to see the results of being a sales-driven organization. We are confident that we will continue to grow distribution as the year unfolds while driving results and creating shareholder value."
January Distribution Milestones
Thrifty Foods
New retailor listing in 24 stores.
Initial order for 2 SKUs of our superseed cereal

Apple Cinnamon, All-Natural Blend
Whole Foods (Western Canada)
Additional SKU listing in all 7 stores.
Existing SKUs already listed: Apple Cinnamon and Mango Coconut
Faire (Canada and US)
Listing of all four (4) SKUs of our superseed Cereal

Mango Coconut, Apple Cinnamon, Blueberry Apple, All-Natural Blend

Listing of all five (5) SKUs of our Oatmeal SKUs

Cranberry Chocolate, Apple Cinnamon, Blueberry Cocoa, Mango Coconut, Maple
Furthermore, Marco Contardi has resigned as a director of the Company for personal reasons, effective January 31, 2023.  We thank Mr. Contardi for his time as a director and wish him well.
About Faire
An online B2B platform servicing wholesale transactions across Canada, the US and Europe.  Hosting over 600,000 retailers across 25,000 cities that represent 85,000 brands across a 5 million small business consumer database.  Now more than ever, consumers are choosing to support local brands. There are millions of thriving small businesses in North America and Europe who collectively represent a trillion-dollar market. With our global community and the power of technology, Faire is helping fuel the growth of brands everywhere.
About Whole Foods
We seek out the finest natural and organic foods available, maintain the strictest quality standards in the industry, and have an unshakeable commitment to sustainable agriculture. Add to that the excitement and fun we bring to shopping for groceries, and you start to get a sense of what we're all about.
About Thrifty Foods
Located in beautiful BC, operating 26 stores, we are your local grocery store focused on food, driven by our fresh expertise and supported by superior customer service.  We pride ourselves on our organic foods, great customer service, and having our customers know that when they buy from Thrifty's they are buying local, fresh, great tasting foods.
About Holy Crap Foods Inc.
At Holy Crap Foods Inc. our mission is to create products that create a healthy gut through simple, quality ingredients that ultimately feed the connection between gut and mind. Holy Crap is an organic, gluten free, non-gmo high fiber breakfast cereal for today's consumer that expects their food to work hard for them. Our great tasting cereal helps maintain a healthy gut which creates a happy mind.

About Happy Belly Food Group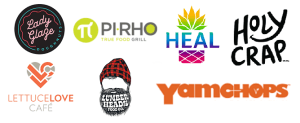 Happy Belly Food Group Inc.  (CSE: HBFG)(OTCQB: VGANF) ("Happy Belly" or the "Company"), a leading consolidator of emerging food brands.
For more information please visit: www.HolyCrap.com, www.YamChops.com, www.LumberHeads.com, www.HealWellness.ca, www.LettuceLoveCafe.com, www.LadyGlazeDoughnuts.com, www.PirhoGrill.com, and www.HappyBellyFG.com.
Happy Belly Food Group
Shawn Moniz
Chief Executive Officer
FOR FURTHER INFORMATION, PLEASE VISIT:
www: www.happybellyfg.com or email hello@happybellyfg.com
Neither the Canadian Securities Exchange nor its Regulation Services Provider (as that term is defined in the policies of the Canadian Securities Exchange) accepts responsibility for the adequacy or accuracy of this press release, which has been prepared by management.
Cautionary Note Regarding Forward-Looking Statements
All statements in this press release, other than statements of historical fact, are "forward-looking information" with respect to the Company within the meaning of applicable securities laws. Forward-looking information is frequently characterized by words such as "plan", "expect", "project", "intend", "believe", "anticipate", "estimate" and other similar words, or statements that certain events or conditions "may" or "will" occur, and include the future performance of LumberHeads Food Co. Forward-looking statements are based on the opinions and estimates at the date the statements are made, and are subject to a variety of risks and uncertainties and other factors that could cause actual events or results to differ materially from those anticipated in the forward-looking statements. There are uncertainties inherent in forward-looking information, including factors beyond the Company's control. There are no assurances that the business plans for Happy Belly described in this news release will come into effect on the terms or time frame described herein. The Company undertakes no obligation to update forward-looking information if circumstances or management's estimates or opinions should change except as required by law. The reader is cautioned not to place undue reliance on forward-looking statements. For a description of the risks and uncertainties facing the Company and its business and affairs, readers should refer to the Company's Management's Discussion and Analysis and other disclosure filings with Canadian securities regulators, which are posted on www.sedar.com.